As August reached its sweltering climax, with temperatures hitting 37 degrees Celsius, our family opted for an ambitious one-day excursion from the coastal town of Makarska to the much-acclaimed Dubrovnik.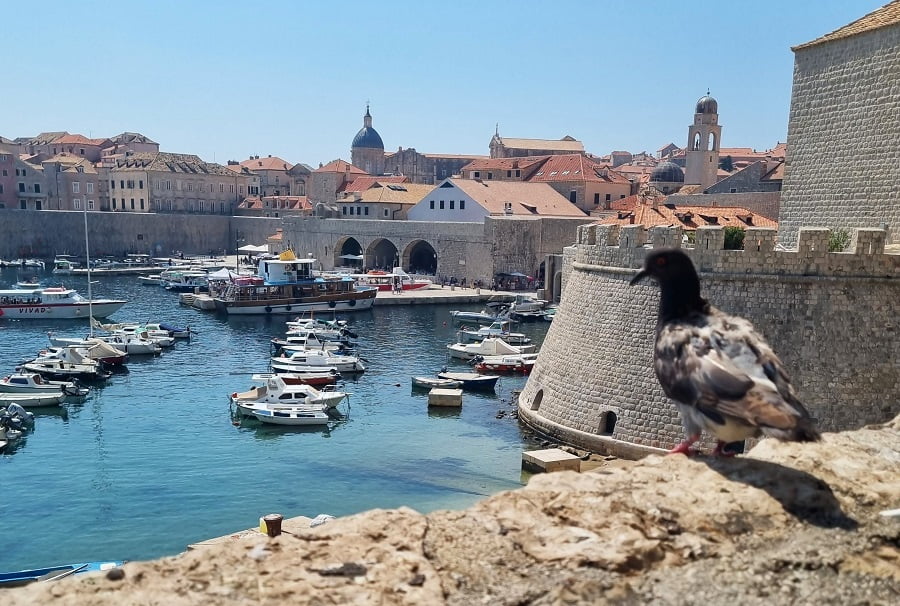 In place of a lazy beach day, we embarked on a visually arresting journey along Croatia's stunning coastline, eager to discover whether Dubrovnik could live up to its heavily advertised reputation. What unfolded was a day of breathtaking landscapes, intense heat, and a firsthand exploration of one of Croatia's most famed destinations.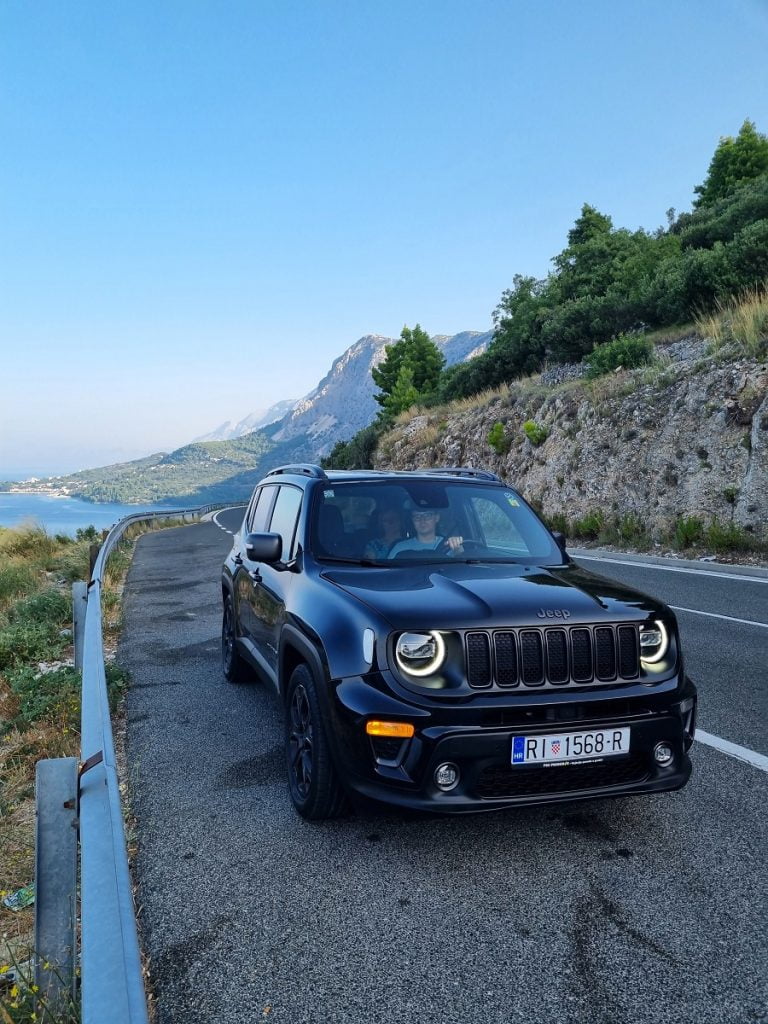 The drive from Makarska to Dubrovnik is more than just a commute; it's an experience steeped in unparalleled natural beauty, historical relevance, and a fusion of Mediterranean influences that captivate the senses. The journey can be best described as a living tapestry of stunning landscapes, dotted with ancient settlements and modern resort towns that showcase the region's rich history and vibrant culture. It's an odyssey that takes you through rolling hills and verdant valleys, presenting an ever-changing scenery of seas, mountains, lakes, and orchards.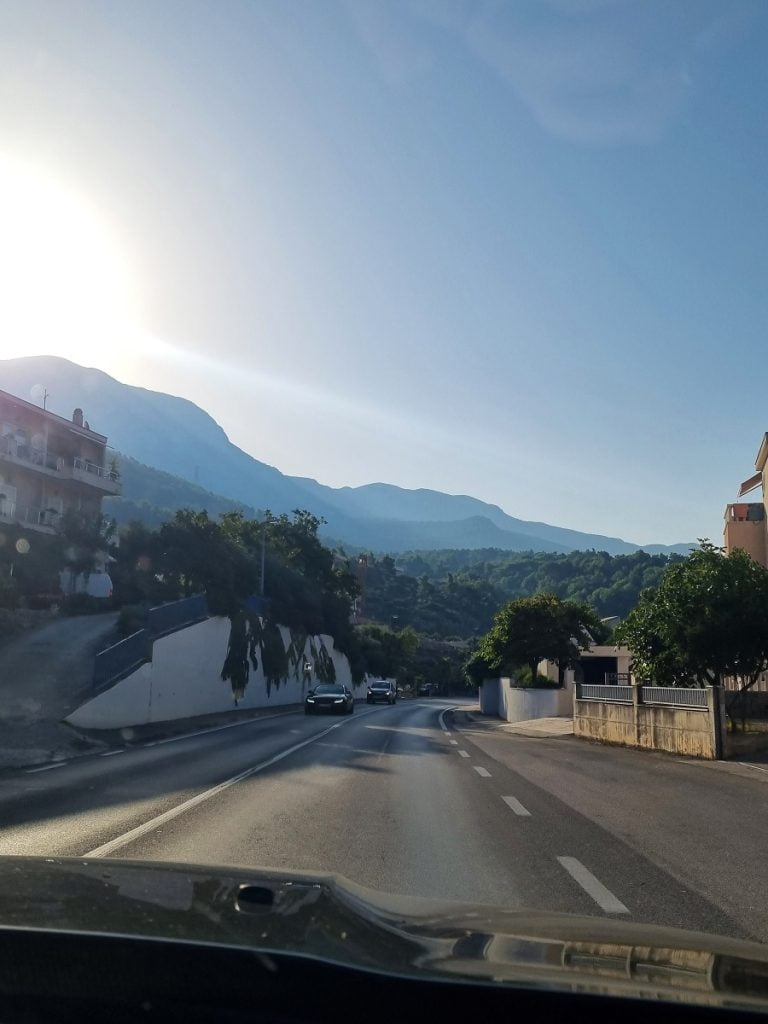 What's This About?
Verdant Highways and Azure Horizons
Rather than sticking solely to the coast, the route leads you into the embrace of mountains, adding an exciting layer of complexity to the drive. The road serpentines through slopes and elevations, each twist and turn offering a new perspective. One moment you are greeted with views of the infinite Adriatic Sea, and the next, your eyes are captivated by the grandeur of mountainous terrains or the serenity of hidden lakes.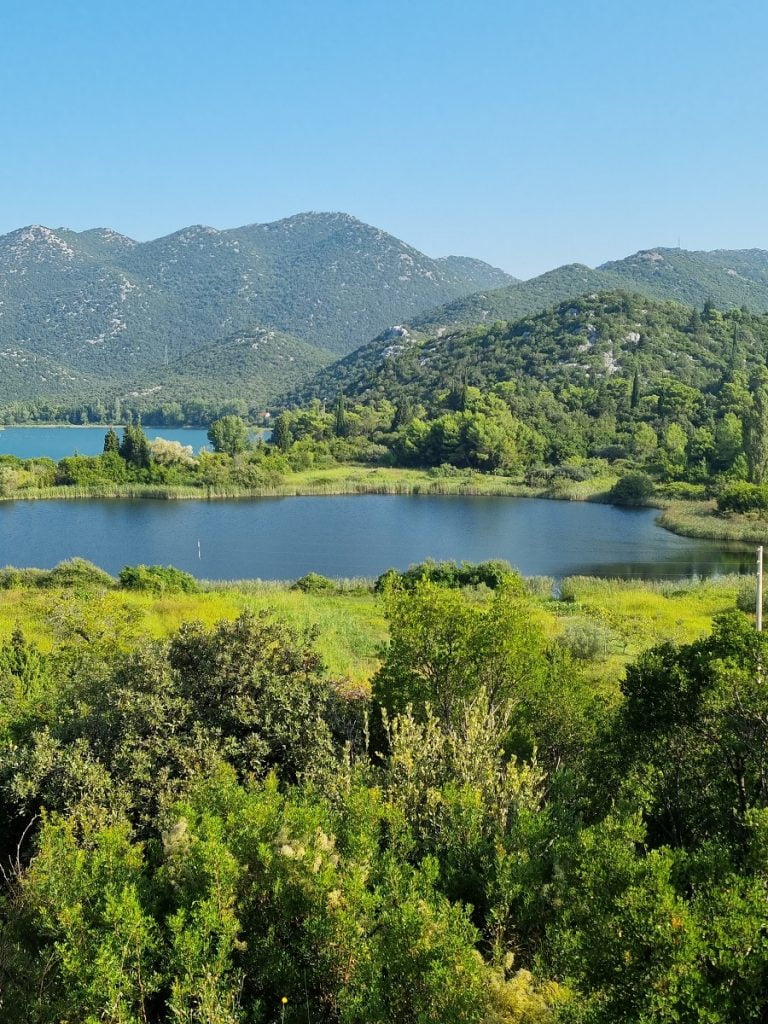 It's impossible to overlook the abundant vegetation that accompanies you throughout this journey. Lush pine forests seem to stand as sentinels along the roadside, their green needles contrasting strikingly with the cerulean blue of the sea and the sky. These pines, native to the Mediterranean region, add a fragrant dimension to the air, making the experience multi-sensory.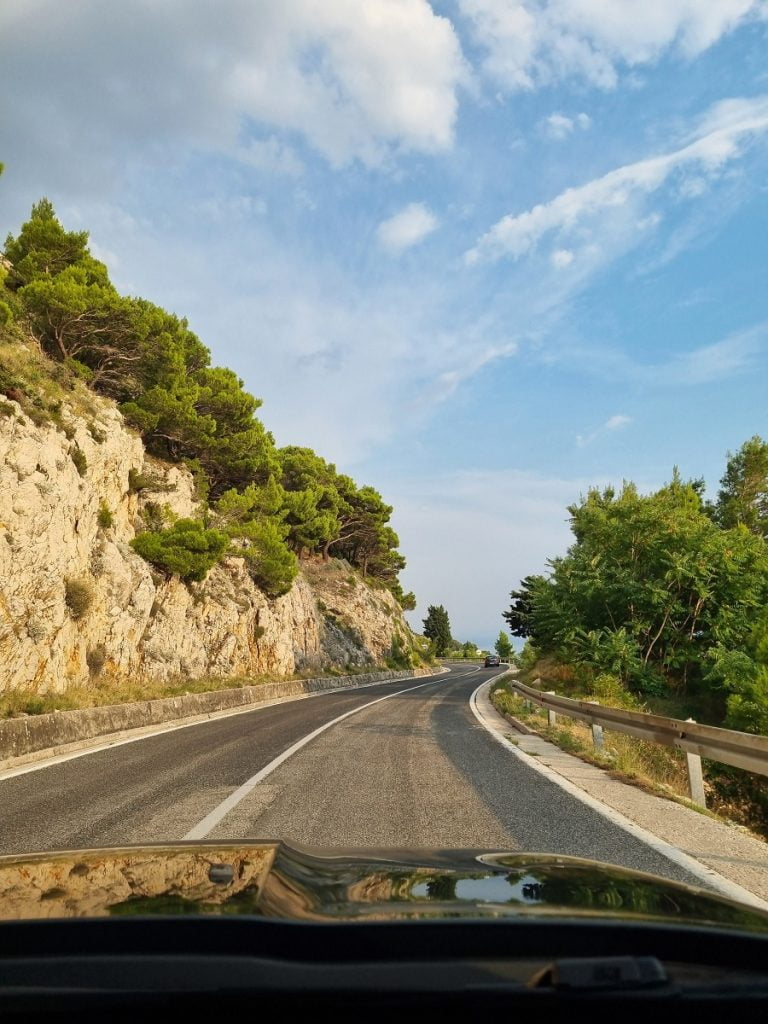 As if seas and mountains weren't enough, the route also unveils Croatia's fertile side. Orchards filled with fruit trees, likely bearing olives, citrus fruits, or figs, flash by in quick succession. During late summer, these orchards are often at their peak, offering a colorful display that stands in stark contrast to the blues and greens typically dominating the scenery.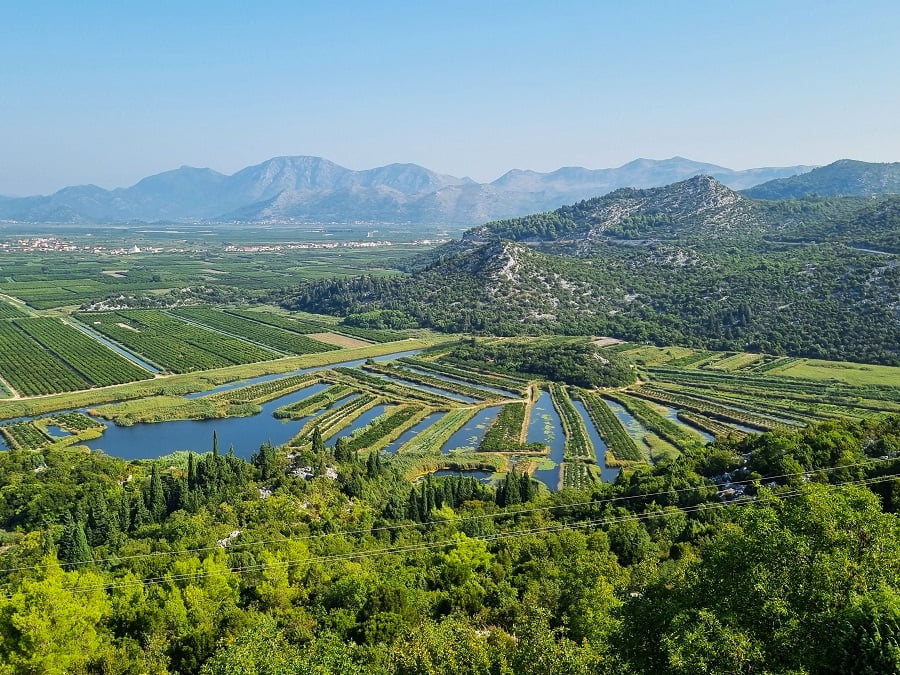 By the time you arrive in Dubrovnik, it becomes clear that this has been a journey of immense natural richness. We've witnessed a microcosm of Croatia's diverse landscapes, each element complementing the others in a harmonious ensemble. Whether it's the tranquil lakes reflecting the cloudless sky, the robust mountains challenging the horizon, or the tranquil sea extending as far as the eye can see, this drive offers a comprehensive experience of Croatia's unparalleled natural beauty.
Arrival in Dubrovnik
Upon arriving in Dubrovnik, we were immediately greeted by packed parking lots and crowds of tourists, making it quite challenging to find a place to park. Eventually, we secured a spot on a hill above the Old Town and made our way down to the city's historic center via a staircase.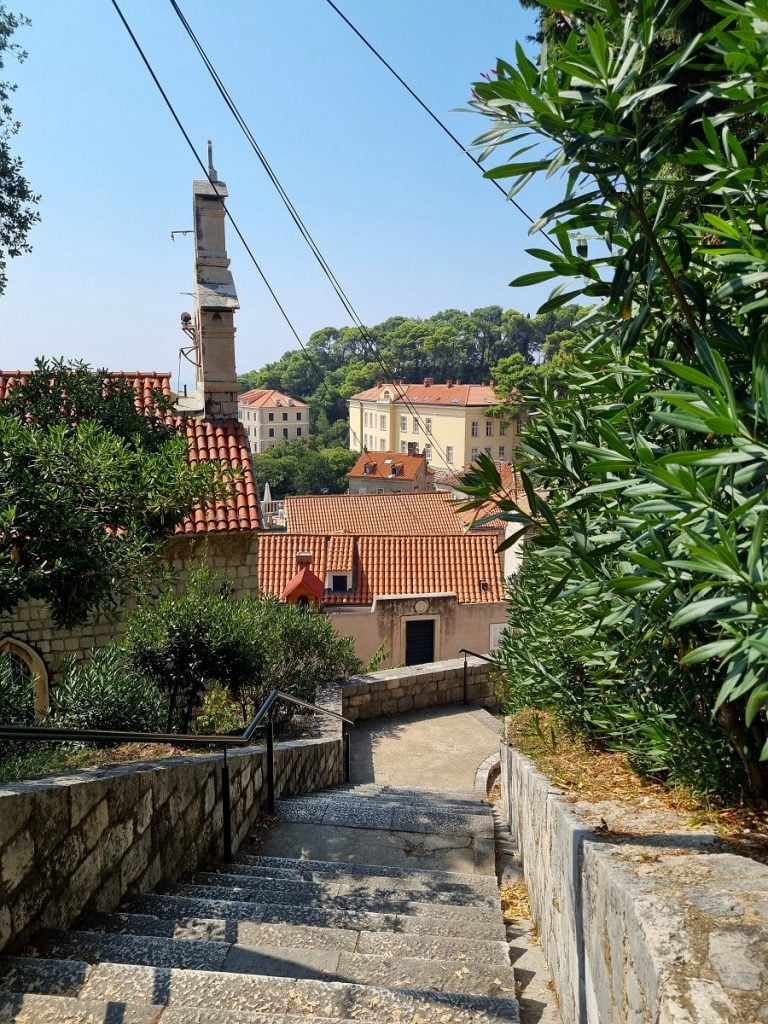 Before crossing into the walled Old Town, we took a break to enjoy some coffee and pizza at a local café. To our surprise, the prices were almost double compared to other Croatian resort towns, serving as a reminder of the premium attached to this popular destination. Despite these initial challenges, the city's rich history and unique atmosphere made the experience worthwhile.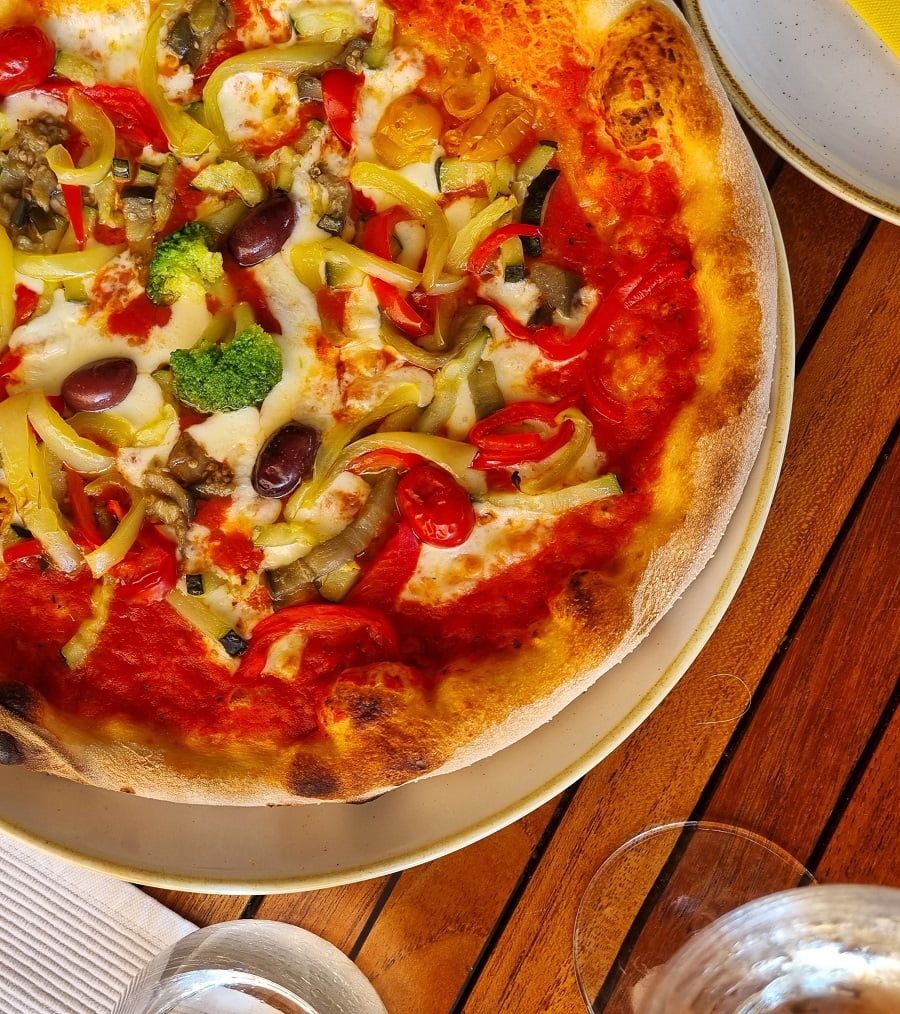 Finally, we made our way through the city's grand entrance, passing underneath an archway that has stood the test of centuries. Once inside, it became clear why people are willing to pay a premium to experience Dubrovnik. Despite the crowds and the commercialization, the city retains a mystique that is both palpable and captivating.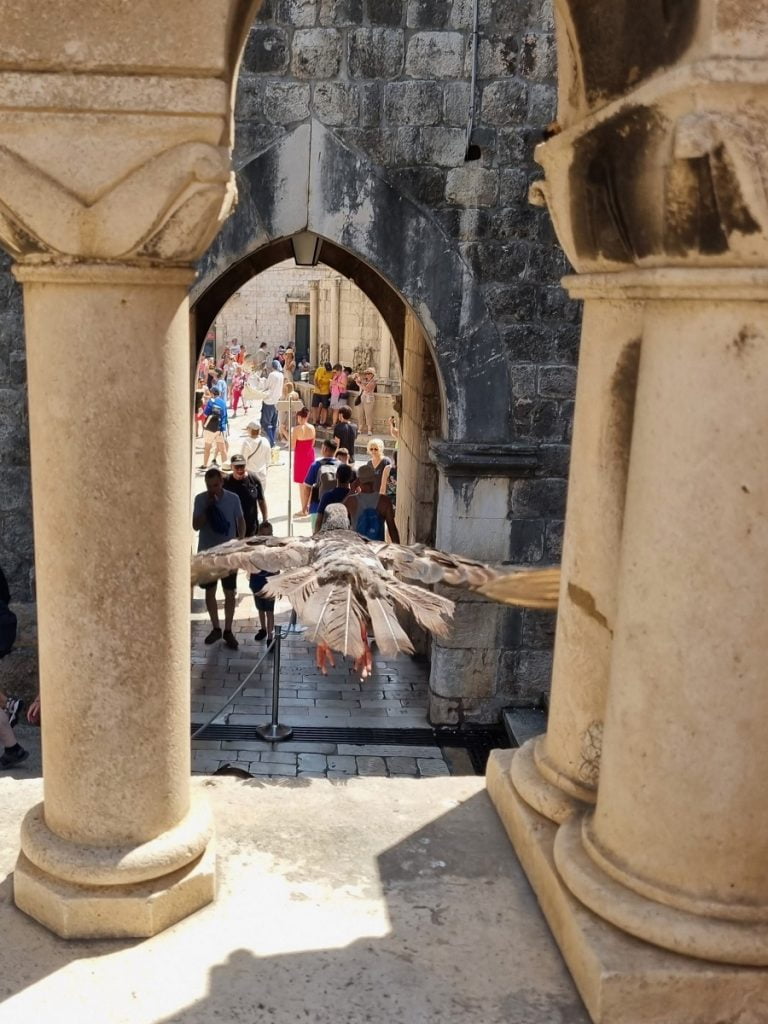 The city is a veritable open-air museum, with architectural styles ranging from Baroque to Renaissance and Gothic. The Rector's Palace, Sponza Palace, and the Cathedral of the Assumption are just a few examples of the structures that highlight the city's aesthetic diversity.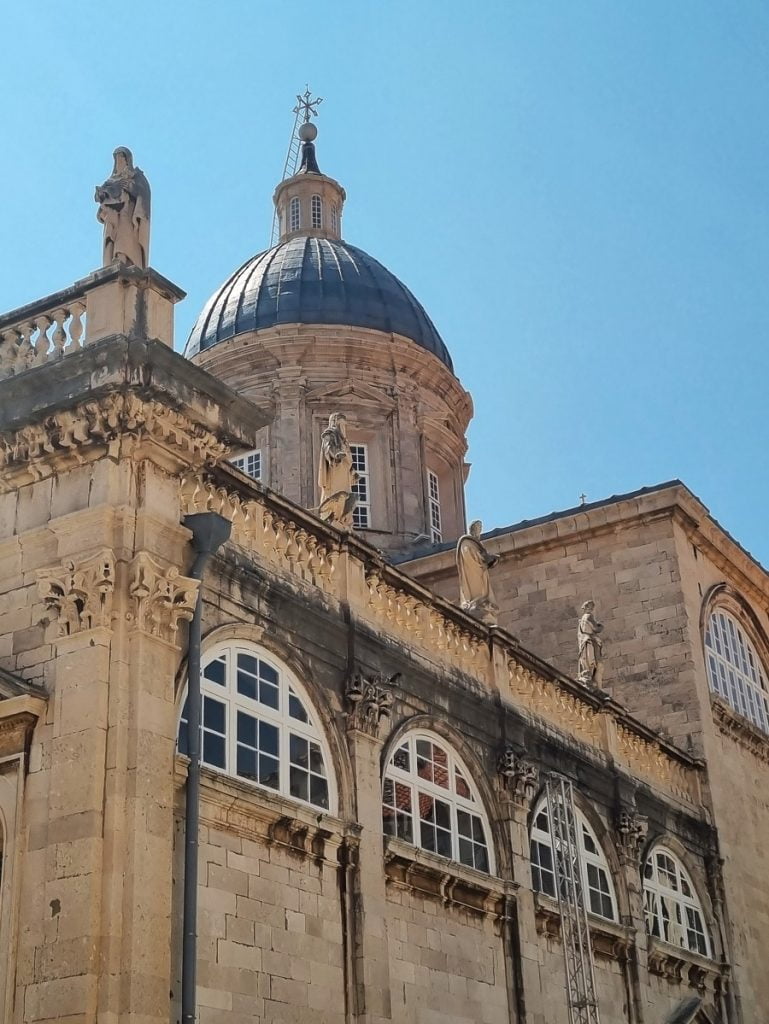 Each building is more than just bricks and mortar; it's a chapter in Dubrovnik's rich historical narrative.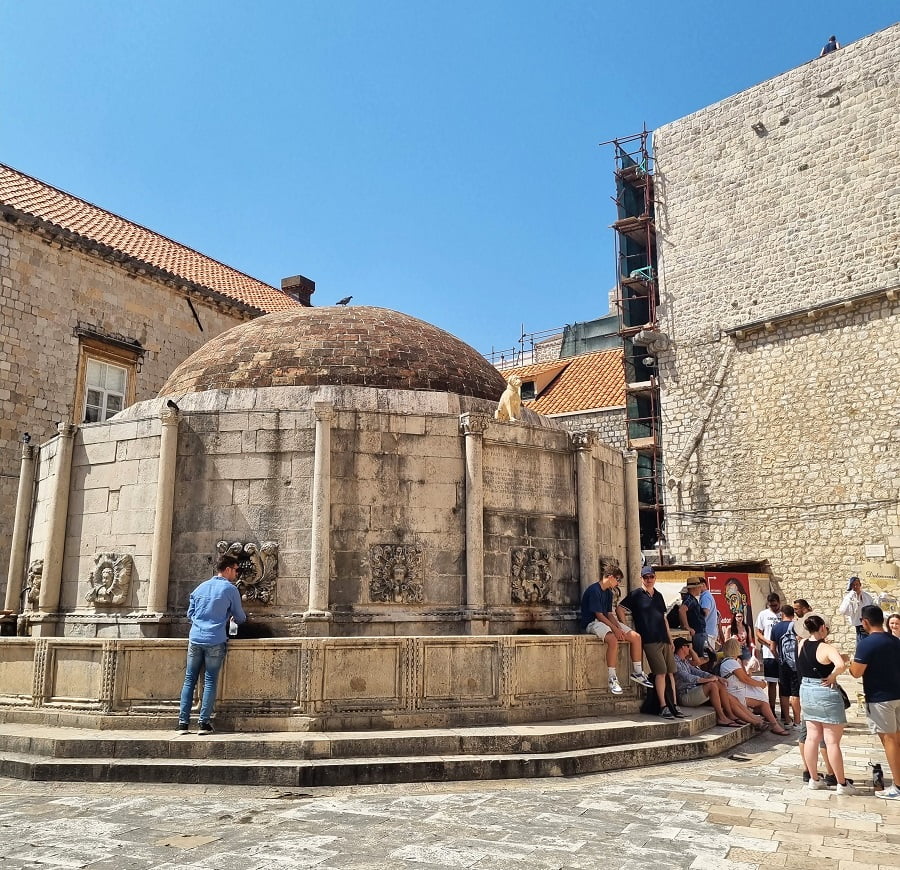 Dubrovnik's Old Town is a captivating blend of ancient beauty and modern tourism. As you wander through its labyrinthine streets, it's hard not to be struck by the grandeur of its stone walls and historical architecture.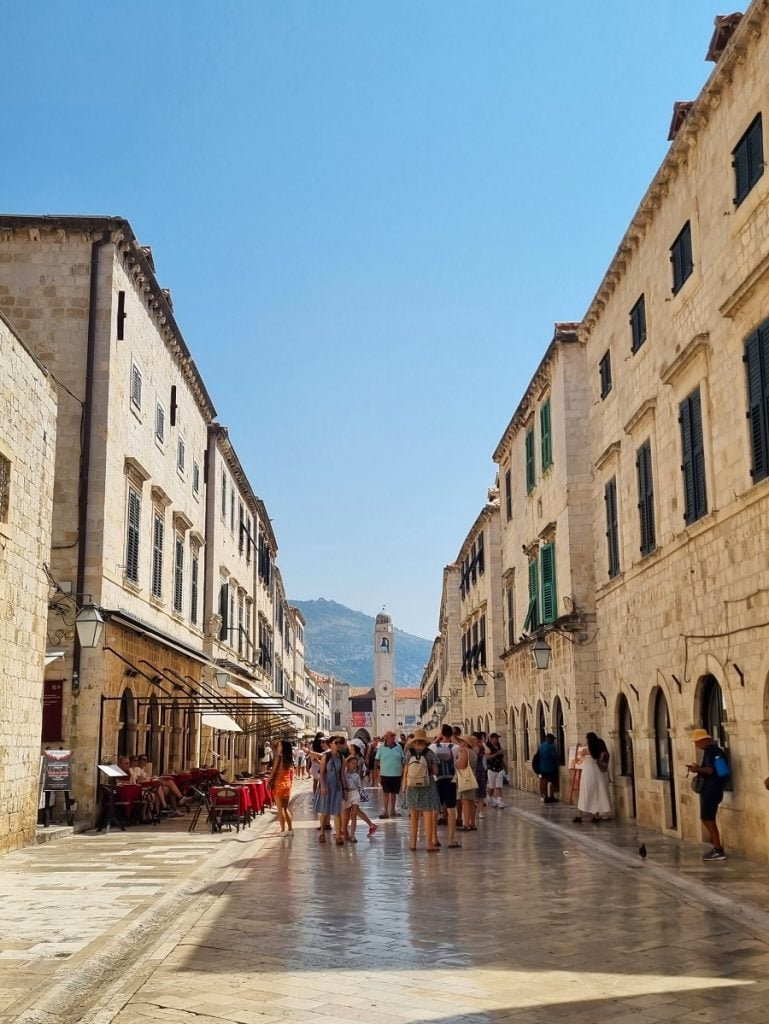 However, the throngs of tourists and elevated prices, especially in Michelin-starred restaurants, make it clear that you're in a highly sought-after destination.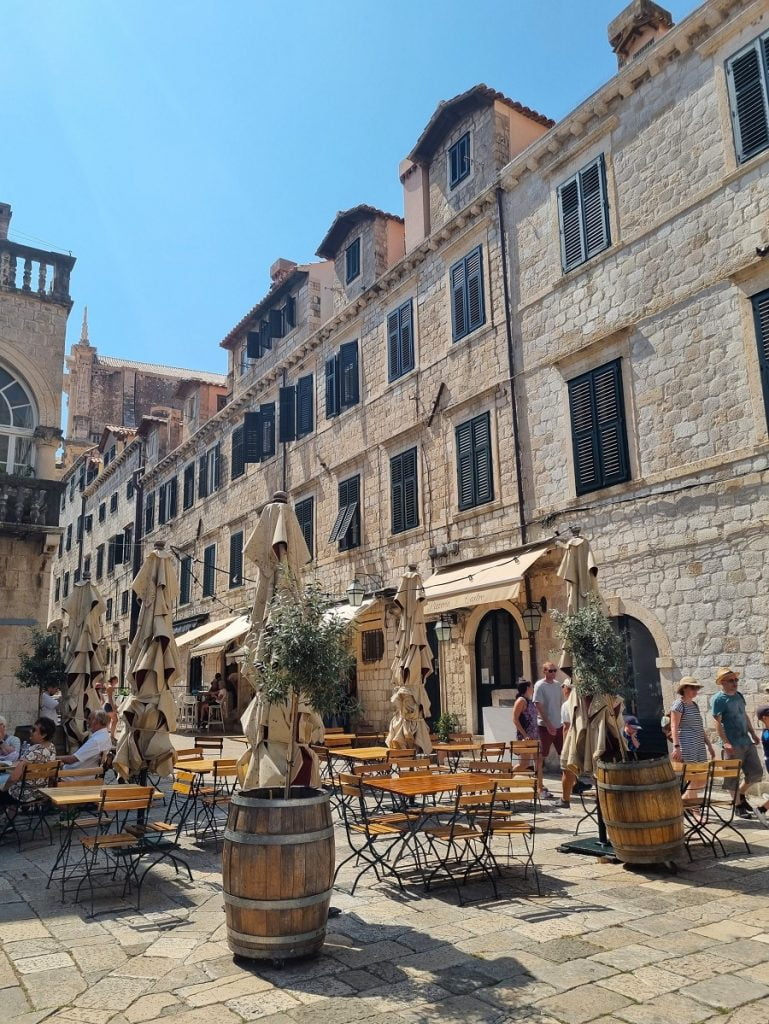 Despite the heat, the atmosphere is kept lively with street musicians filling the air with melodies. One delightful feature is the city's ornate fountains, which not only serve as picturesque landmarks but also provide much-needed drinking water in the hot weather. The Old Town seamlessly merges the past and the present, offering an experience that's as enriching as it is expensive.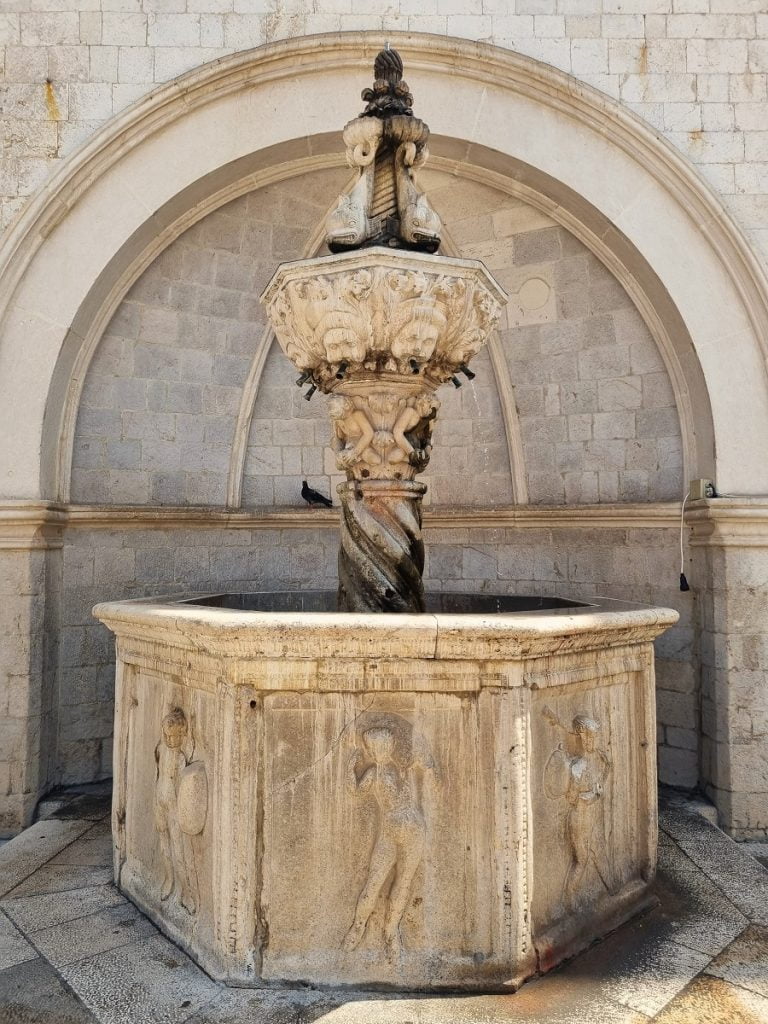 From Cobblestones to Coastline
After exploring the walled Old Town of Dubrovnik, we headed to Banje Beach to escape the heat.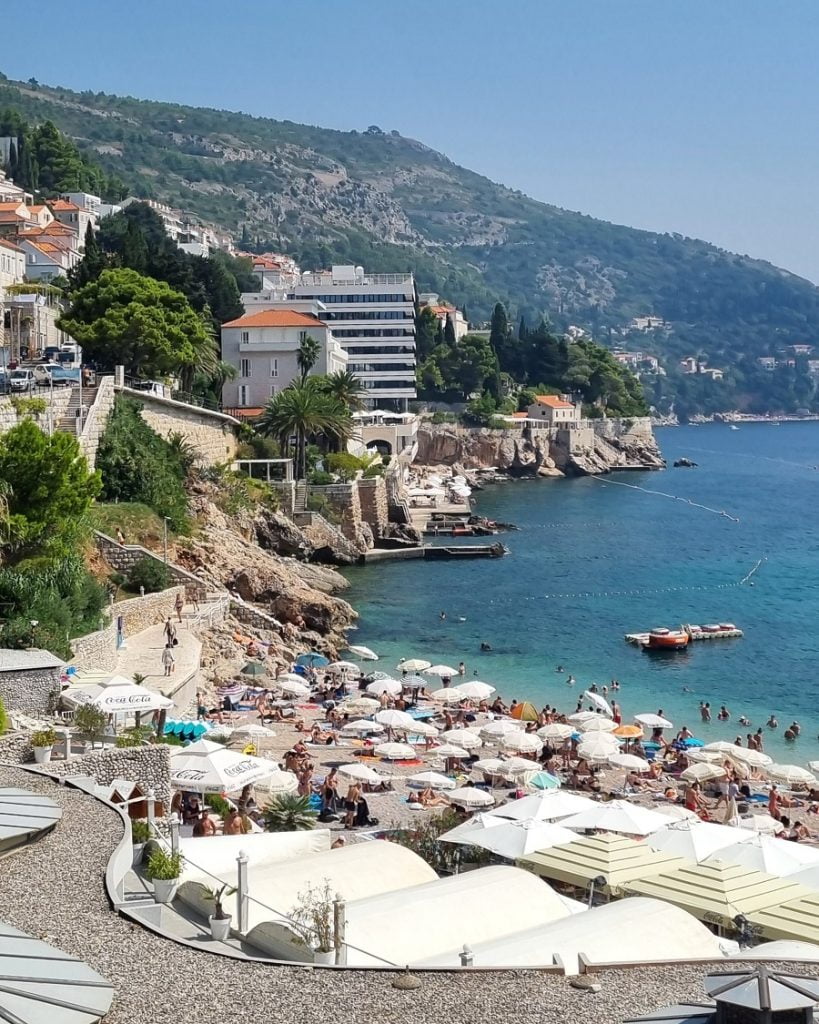 We were hardly alone in our quest for refreshment; the beach was packed with sun-seekers, and the water, though not crystal clear, was pleasantly cool. After a quick dip, we decided to have lunch at Banje Beach Restaurant and Night Club. We indulged in a seafood feast, sampling fresh oysters, seafood pasta, and seafood risotto.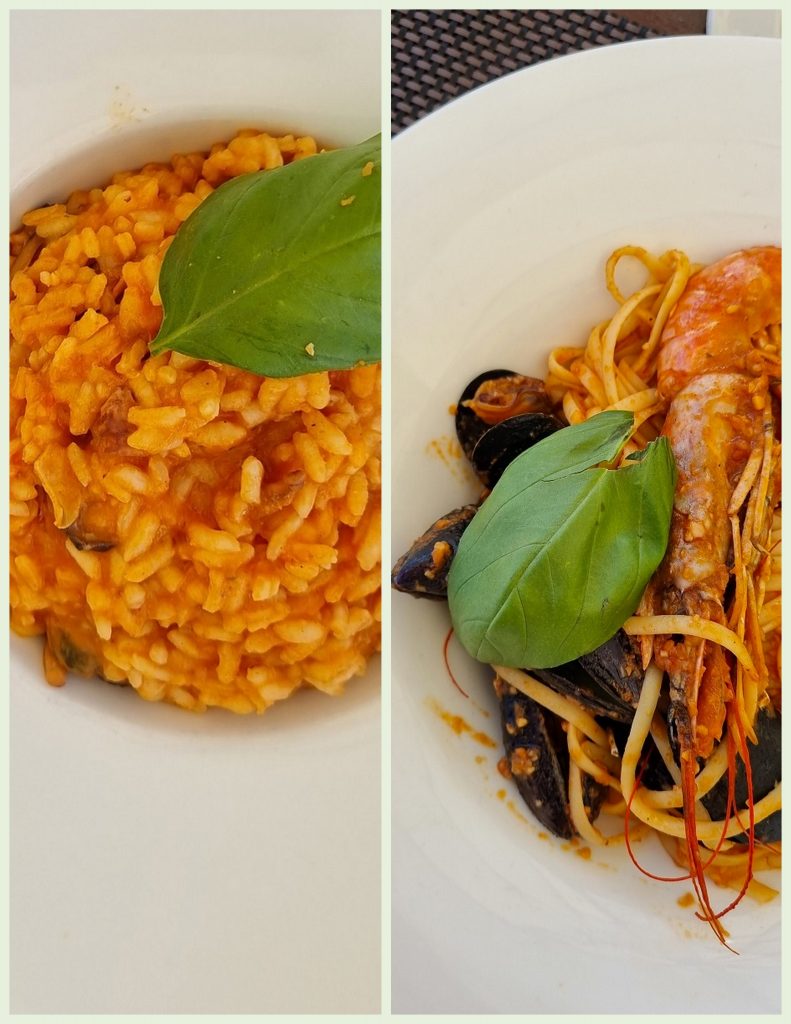 Each dish was delicious and offered a satisfying conclusion to our day of sightseeing and sunbathing. Despite the crowds and the heat, Dubrovnik had again proven its allure, both in its historical landmarks and its culinary offerings.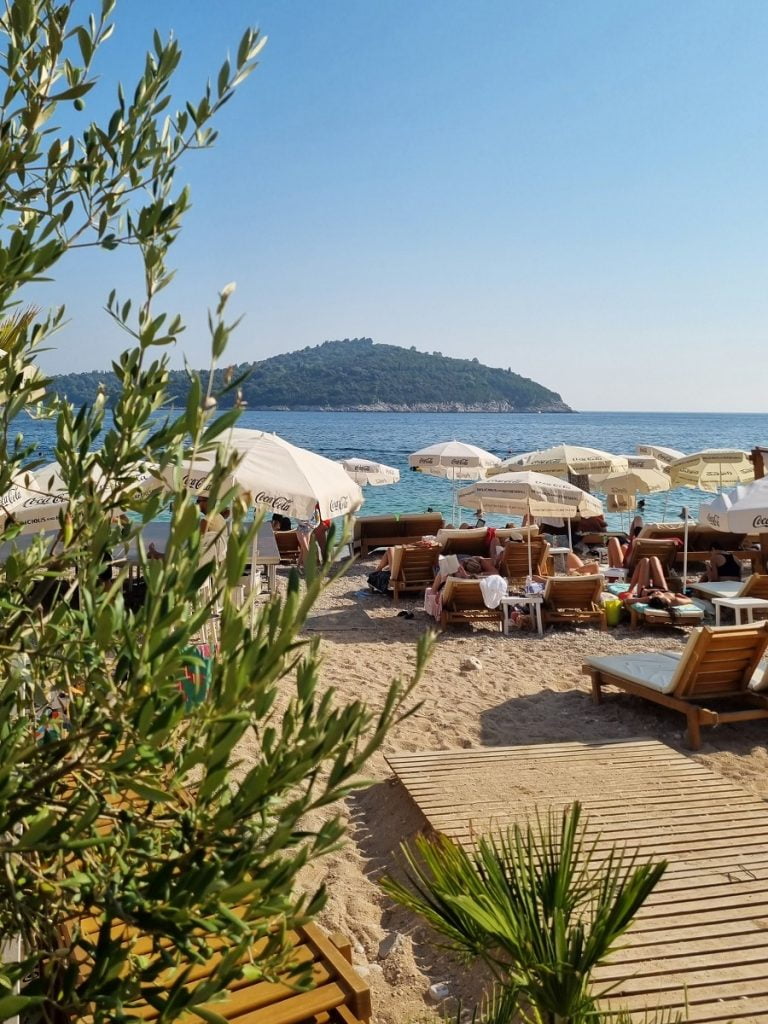 The Final Leg of Our Day in Bustling Dubrovnik
Recharged and satisfied from our sumptuous meal, we gathered our belongings and prepared for the uphill trek back to our parked car. Opting for the shortest route according to Google, we soon realized it was not the easiest, especially while pushing a stroller with our tired daughter. Despite the struggle, the panoramic views of the Old Town provided a beautiful backdrop that made the effort worthwhile.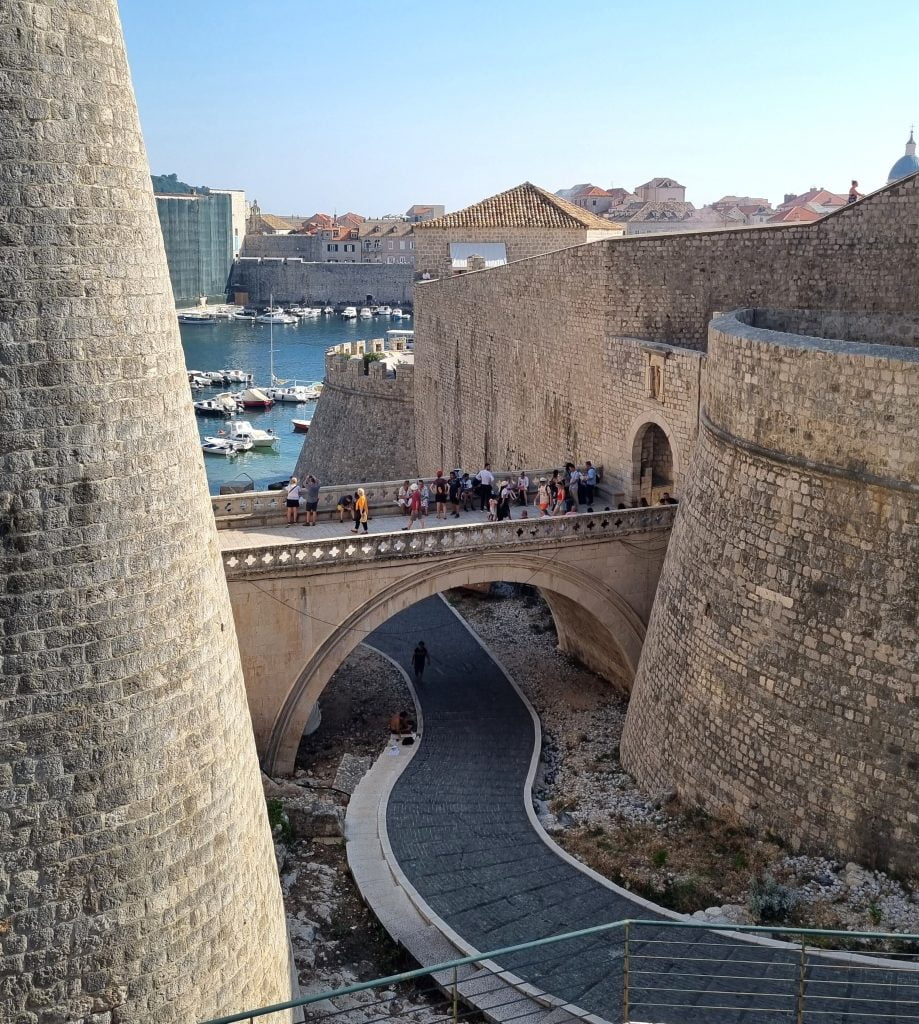 While Dubrovnik is undoubtedly a stunning city, our experience suggested that visiting during a less busy and cooler time of year might allow for a more leisurely exploration of this incredible museum-like town.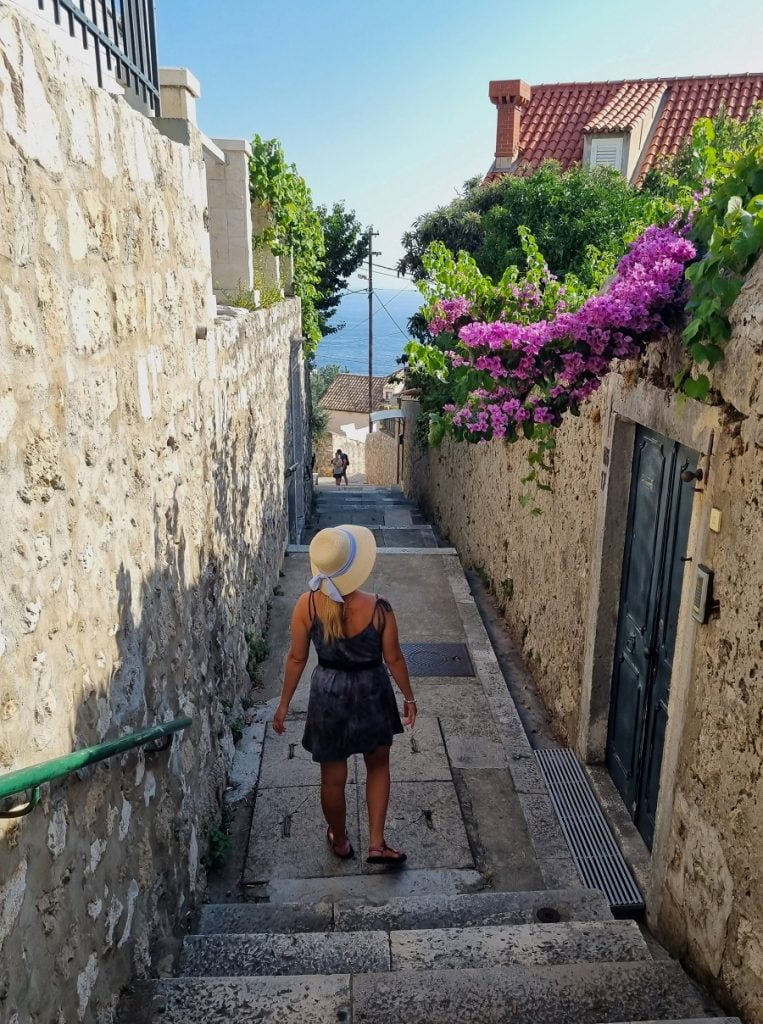 Parking Puzzles in Dubrovnik: A Costly and Competitive Endeavor
Finding parking in Dubrovnik can be a challenging experience, especially during the high tourist season. Most lots near the Old Town are full, requiring drivers to circle multiple times or to park at more distant locations. Rates vary, but parking close to popular attractions can be expensive, sometimes reaching up to €7 per hour or more. While there are some cheaper options further away, these often require a considerable walk back to the city center. Given the competitive nature of finding a spot, it's advisable to arrive early or to consider alternative modes of transportation when visiting this popular Croatian destination.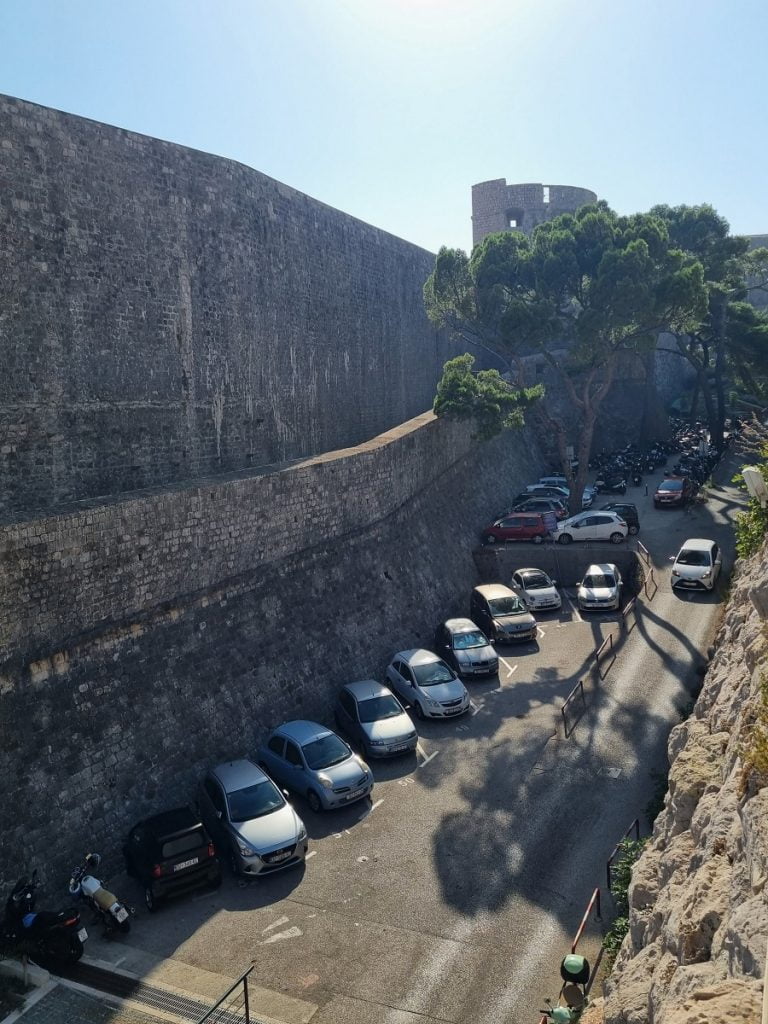 Our parking experience in Dubrovnik set a personal record for cost, coming in at a staggering €42 for a relatively short stay. At €7 per hour, our spot was actually on the more affordable end; closer to the Old Town, filled-to-capacity lots charged rates of €10 per hour or even more. These exorbitant parking fees served as a stark reminder: Dubrovnik is not a budget-friendly destination. Whether it's parking, dining, or sightseeing, visiting this picturesque Croatian city comes with a hefty price tag.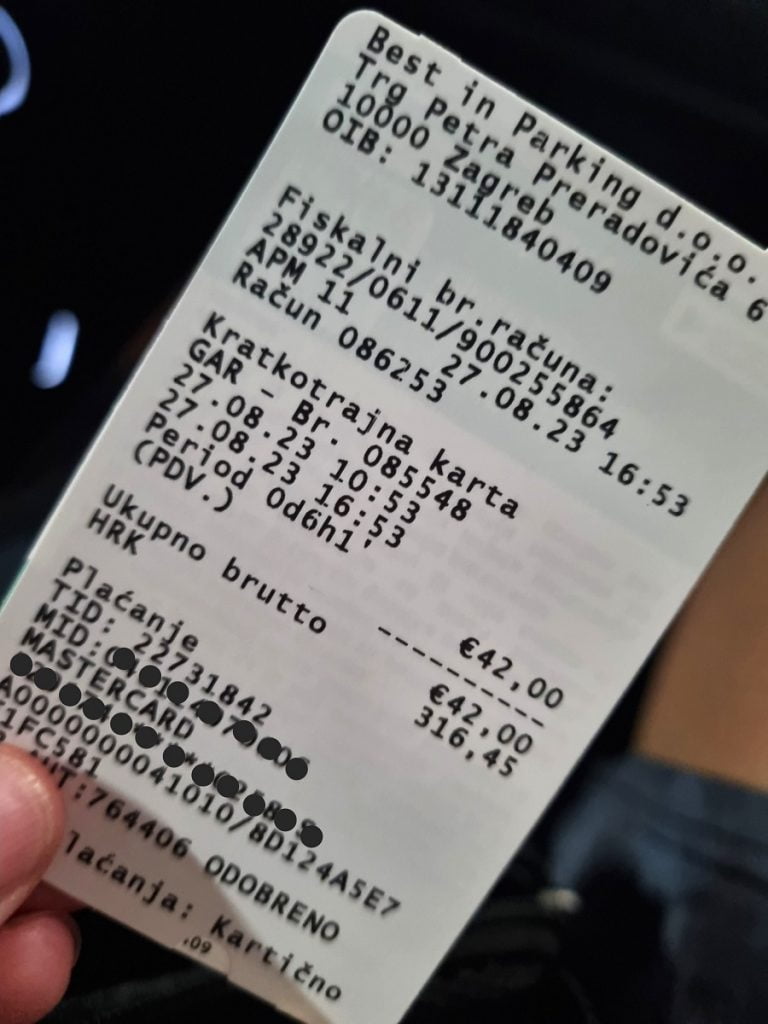 The Perfect Stops on Our Journey Back to Makarska
After a hot but fascinating day in Dubrovnik, we faced the lengthy drive back to Makarska. Along the way, we couldn't resist stopping at the Pelješac Bridge—an imposing, white, and stunningly beautiful structure.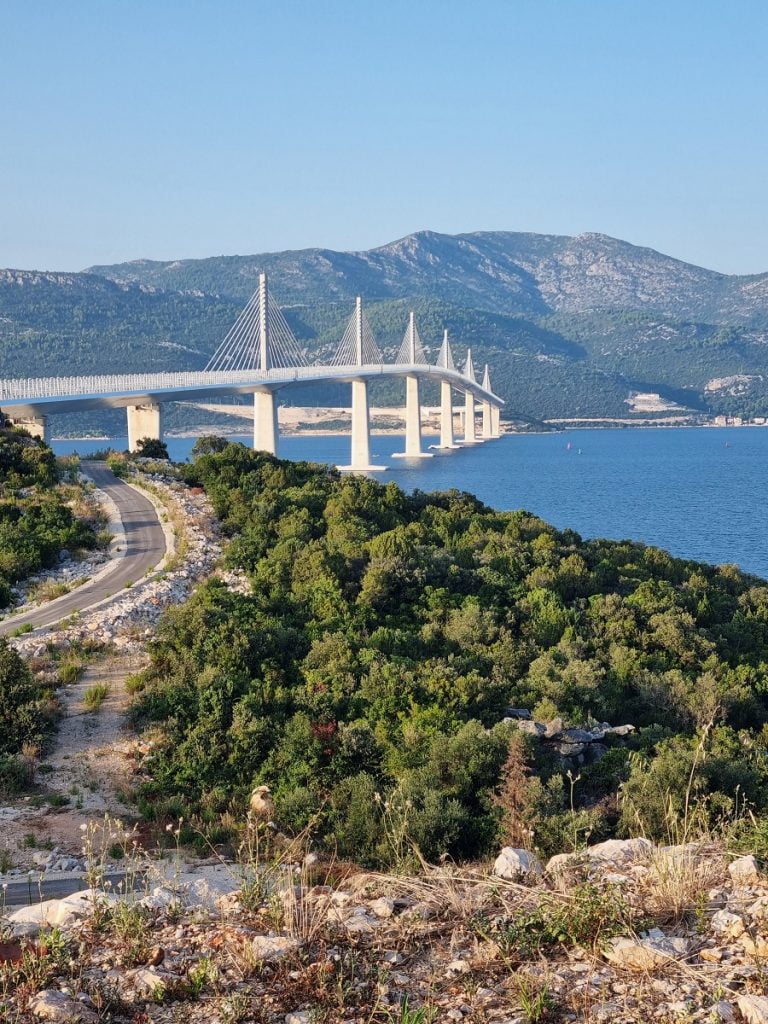 Conveniently, the area around the bridge features well-maintained facilities, including restrooms, a children's playground, and picnic tables.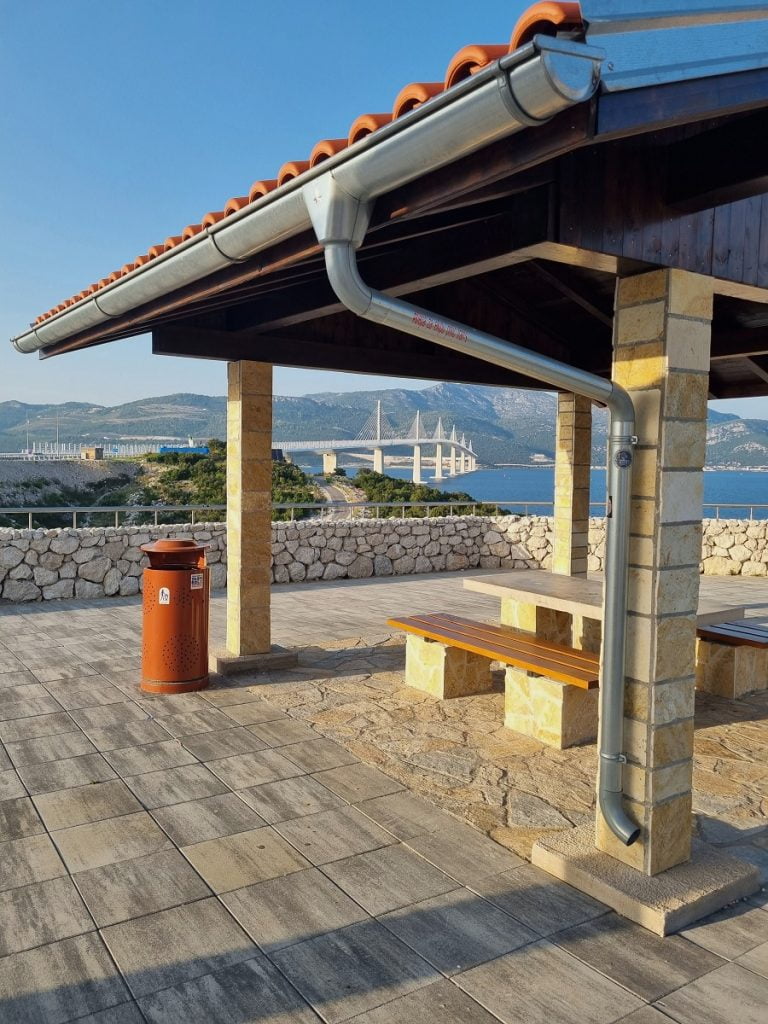 Although our daughter had had an exhausting day, she was still wide awake in the car and was delighted to discover the playground. This unexpected break turned out to be the perfect way to split up our journey and capture some memorable photos.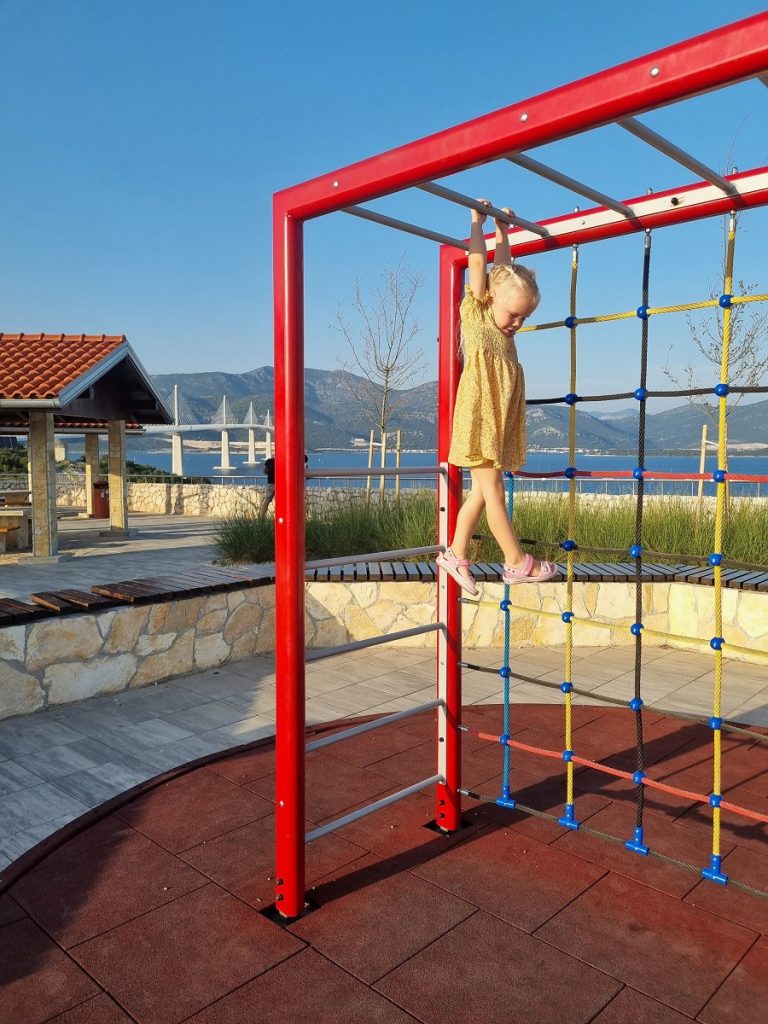 A Bounty of Croatian Delights Right Off the Road
Our next brief stop was alongside the Neretva River, where we discovered a roadside market overflowing with Croatian specialties.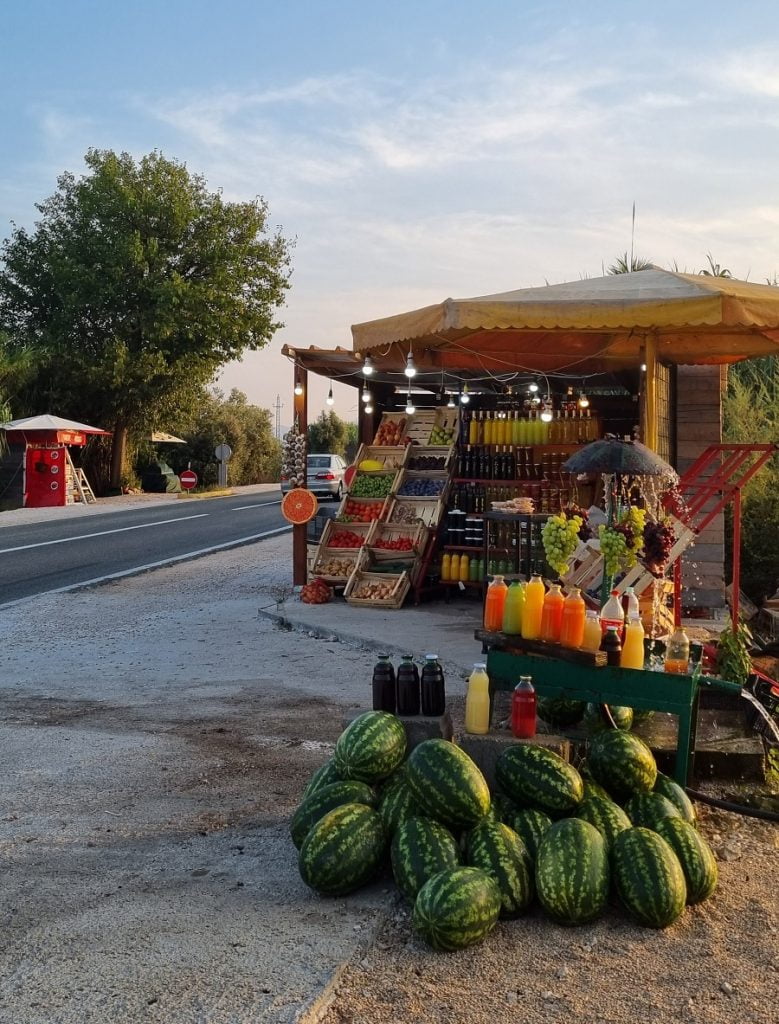 From fresh fruits and vegetables to dried figs, olive oils, homemade wines, liqueurs, and even freshly squeezed juices—there was a rich array of local products to choose from.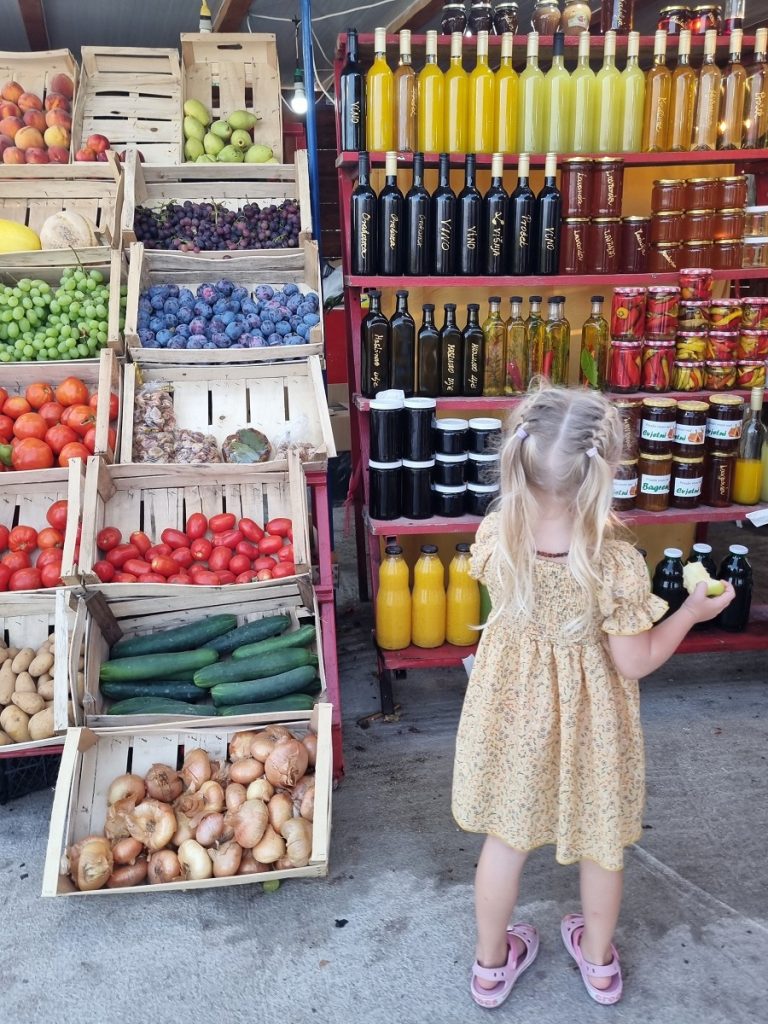 The vendor were exceptionally courteous, offering tastings of their beverages to entice potential buyers. The market provided not just an opportunity to stock up on delicious and authentic items, but also a vibrant glimpse into the local culture. It's a stop that we found to be well worth the time.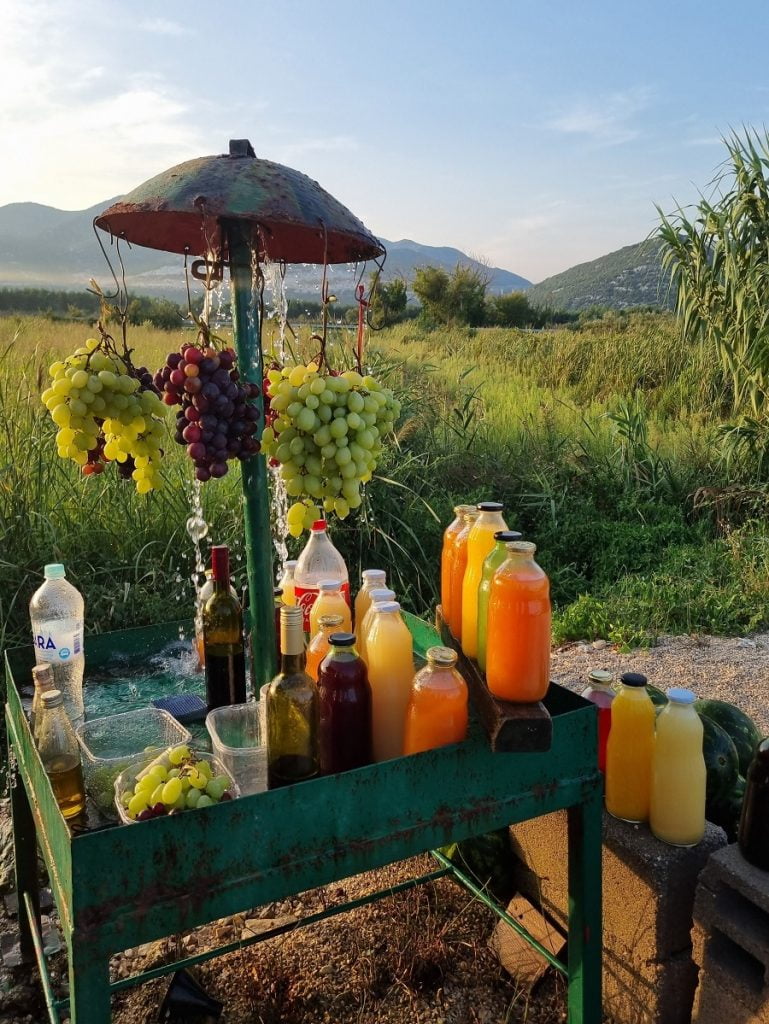 A Tranquil Ending at Baćinska Lakes: Sunset Splendor Before Reaching Makarska
As evening drew near, we made our final stop at Baćinska Lakes to capture the ethereal beauty of the lakes under the soft glow of the setting sun.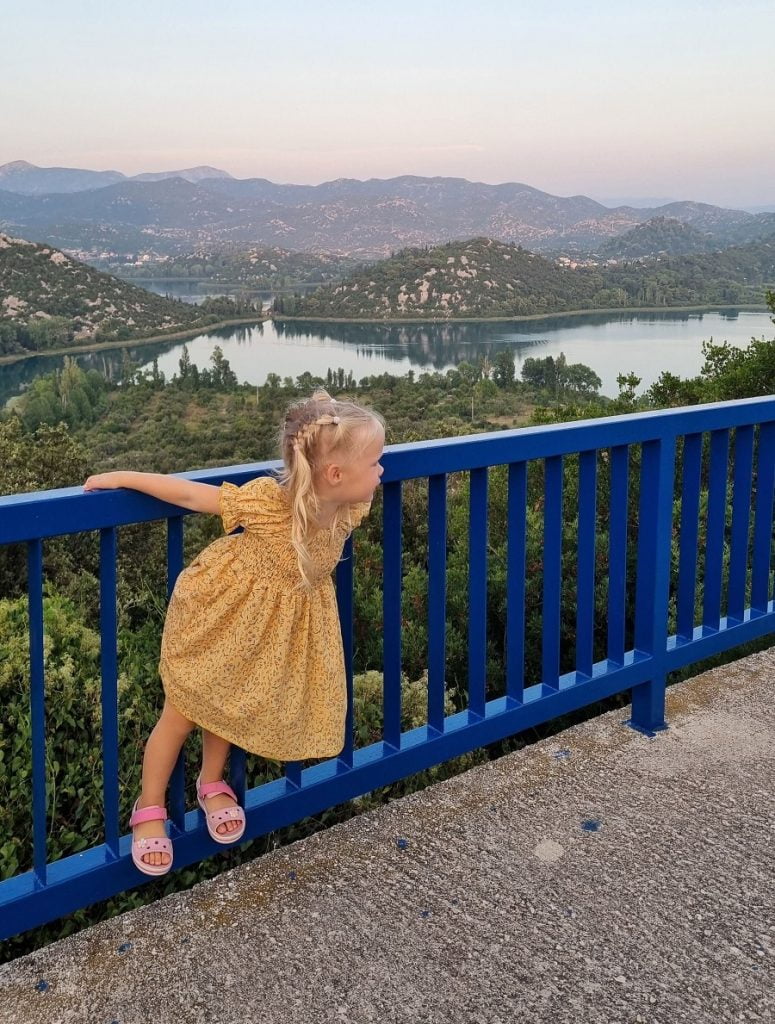 A few quick photographs later, we felt both exhausted and fulfilled as we resumed our journey back to Makarska. Along the way, we were treated to the splendid vistas of the Croatian coastline, bathed in the breathtaking hues of sunset.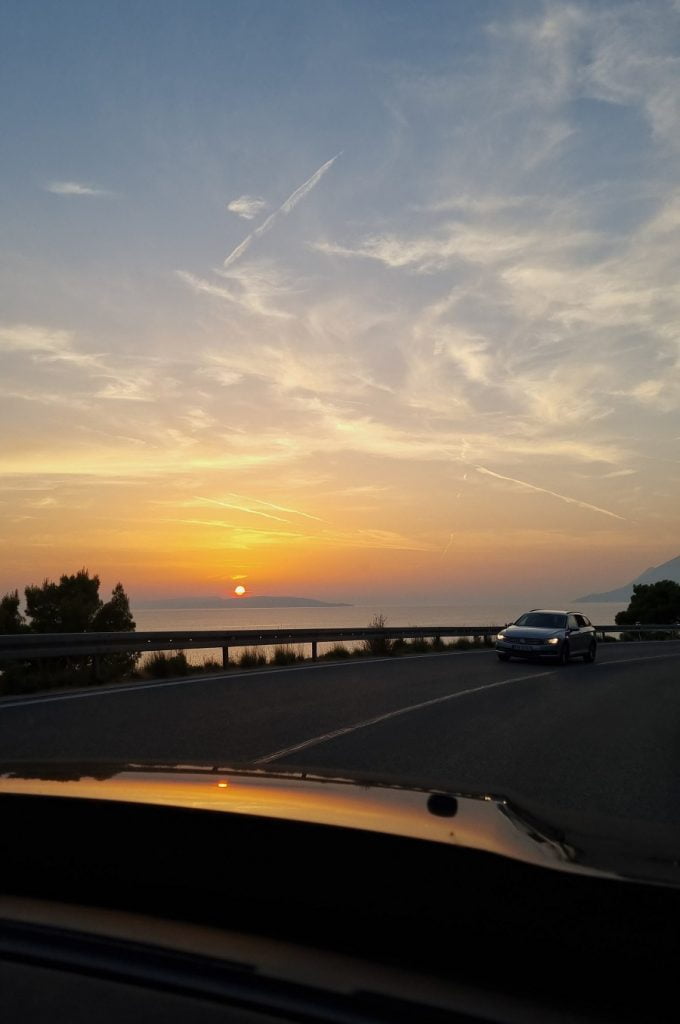 This serene moment served as a perfect bookend to a day rich with adventure, discovery, and natural beauty. It was a day we knew we'd cherish for years to come.
Liked this article? Check these out: