Planning your trip to Porto, Portugal, and looking for things to do in the city? Here's our list of the top 10+ things we have done during our two days' trip to this wonderful city. We hope that you'll find something to add to your own itinerary here too!
Paris, Barcelona, step out of the way – here comes Porto, a real gem of a city that can easily be the most beautiful in Europe. And while you can argue with that, there's no arguing its natural beauty and charm. Having just been to Lisbon, Porto is our favorite place in Portugal.
We did our best to capture what Porto has to offer to a tourist, and we invite you to relive our journey. Get ready to get dizzy looking down from the magnificent Dom Luis I Bridge and be charmed by the city's colors.
What's This About?
Climb to the Top of the Dom Luis I Bridge

The Dom Luis I Bridge is a real spectacle, so no wonder most of Porto's postcards include it. The riverbank by the bridge on both sides of Douro is the place to be – there, and you can enjoy a nice Portuguese meal while enjoying the views and a glass of fine port wine.
---
Take a Boat Trip on the River Douro

Boat trips are a big part of Porto's attractions, so it's one of the must-do's while visiting the city. You can spend an hour enjoying the beautiful shoreline of the town and take some of the best pictures while there.

The architecture in Porto is most notable for its old colorful residential buildings stacked by the river. The steep rocky river shore allows a unique opportunity to build the town up vertically, and Porto have made the most of it since its inception.
---
Take a Wine Tasting Tour in Vila de Nova Gaia

While talking about Porto, we cannot mention Vila de Nova Gaia, which is technically a separate city, where you get to by crossing the bridge. In Vila de Nova Gaia's wine cellars, port wine is born, and you can take a tour through these cellars on a wine tasting journey.
---
Have Lunch by the River Douro in Vila de Nova Gaia

Vila de Nova Gaia is also where Porto's best pictures can be taken as you can see its entire riverbank and the magnificent historic town in all its beauty. Use the opportunity to walk across the bridge and have lunch or a drink on the riverbank while enjoying the best views of Porto.
---
Escape to the Crystal Palace Garden

If you walk away from all the main tourist attractions and all the city buzz to more secluded areas, you'll be met with the serene beauty of the city. You can walk all the way to the Crystal Palace garden (pictured above) for a calm getaway to nature…
---
Walk Further Away from the City Buzz

Or walk up the riverbank for historical pathways and more views of Douro. This way, you can get to see the real authentic face of the town.
---
Taste Some Port Wine on the Street

Food in Porto is typical of Portuguese cuisine, with lots of codfish and sardines. And of course, lots of port wine you can taste on almost any corner of the town.
---
Go Hunting for the Best Pictures of Porto's Great Monuments


Like any old city in Europe, Porto is also full of magnificent fountains and monuments that make great pictures and tell a great past story. Such as Lion's fountain by the Carmo's church or the impressive monuments of King Pedro IV in Praça da Liberdade and Prince Henry the Navigator in Praça Infante Dom Henrique.
---
Get Up to the Clerigos Tower

If you like panoramic vistas from high above, you have to get to the Clerigos Tower to climb up to its terrace to see Porto from above. If you've been to Lisbon, you won't see anything special, but you do get to enjoy the lovely orange rooftops yet again.
But you can also yet again climb up the Dom Luis I Bridge to get those same panoramic views for free. We'll leave it for you to decide which are better – the views from the tower (above) or the views from the bridge (below).

---
Catch a Train at the Sao Bento Station

We have to talk a little bit more about Porto's architecture, even if to mention the extraordinary rail station of Sao Bento (pictured below). With its Azulejo panels, both in the exterior and the building's interior, it's one of the iconic places in the city and a real spectacle to see. Even if you're not traveling to or from this station, you have to get there even if you take a picture or two.
---
Celebrate!

If you're lucky, you'll find Porto adorned for a festival as it was in our case just after the Sao Joao festivities. The already colorful town is adorned in even more color, making it even prettier and a real dream to a photographer.
---
Ride the Historical Tram

Finally, we cannot finish off the story about Porto without mentioning the iconic electric trams. Just like in Lisbon, you'll find the historic trams here too, which make a great tourist attraction while being useful means to get around the city as well.

Riding one of these authentic cabs is a fun experience even when they get a little cramped with tourists.
---
So that's Porto – a lovely, colorful and charming city. We definitely haven't revealed its full glory in this short story. That's something you'll have to experience yourself when you get there! One thing's for sure – you won't regret it!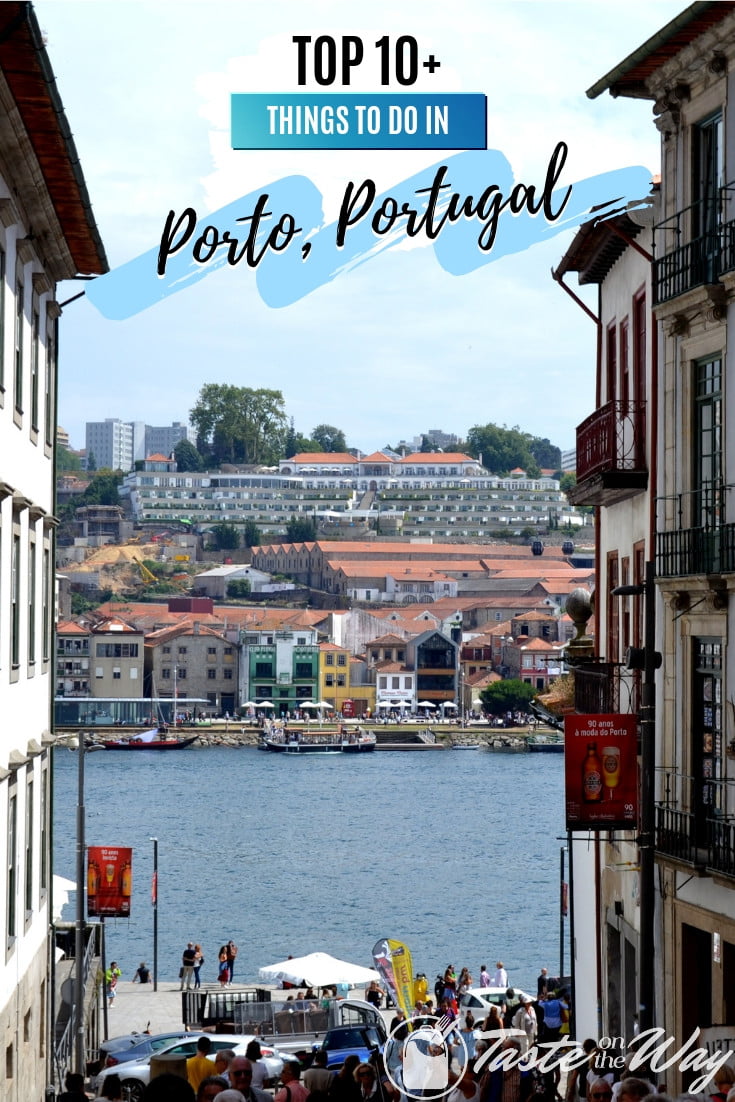 Liked this article? Check these out: